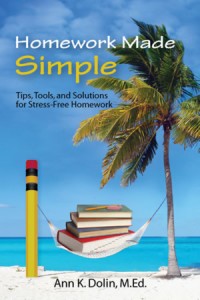 I hope that you have enjoyed reading Ann K. Dolin's articles for the last week or so all about homework and different kinds of students.
Are you still trying to absorb all the information that she shared? I know I am!
Ann's generosity in sharing so many of her articles with me is apparently an accurate reflection of Ann in general. Go back and read just one of her articles and look at how much solid information and help she gives you.
Her book, "Homework Made Simple: Tips, Tools, and Solutions for Stress-Free Homework", is no different. This book is absolutely full of good, solid, easy to understand and implement ideas to make homework at your house way easier.
There are so many things about this book that I like and that as an ADD Mom, I appreciate.
The book is well organized and easy to read. Each section begins with a "Goals" box outlining what that chapter will cover.
Sprinkled throughout the book are stories of parents and children, each used to illustrate a point. You can really relate to these parents, their children, and the homework problems that they have and it truly makes understanding the concepts much easier.
Ms. Dolin also makes use of various visual aids in the book, such as charts, checklists, and photographs - a big plus for us, because we are visual learners.
When she offers a solution to a problem, Ms. Dolin often breaks it down into easy to do steps accompanied by a chart or other visual aid. Again, a big plus for us.
Each chapter ends with a checklist, summarizing the important points within.
Although it is not geared specifically to ADHD children or their parents, "Homework Made Simple" is full of excellent ideas and practices that I believe could go a long way in making a difference in school performance.
Students can benefit from the implementation of Ms. Dolin's tips and techniques and parents can benefit from her instruction on how to implement them.
I highly recommend that you buy this book, whether your children are 5 or 15. I have 3 children in college and I will be sharing some of these ideas with them as well.
I haven't seen a book like this in a long time; each and every page contains so much valuable information that you can put to use. I guarantee that if you buy it, it will become a valued resource that you will turn to time and time again.
The book is available at most bookstores and Amazon and is very affordable.
Note: I was given a free copy of "Homework Made Simple" in order to review it, but my reputation means more to me than a free book. My opinions are not for sale. If I didn't stand by every word I've said, I wouldn't print it.